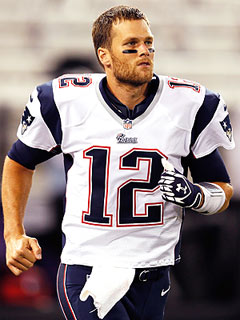 At this point in his career, there's no denying that Tom Brady is the closest thing to a reincarnation of Joe Montana. He has three Super Bowl Championships (even though he's played in four and only lost that perfect season on a crazy, cinderella pass from Eli Manning to David Tyree), two Super Bowl MVPs, seven Pro Bowls, and two NFL MVPs. Brady has been called the Sportsman of the Year (2005) and the Male Athelete of the Year (2007), all while he continues to chip away at record after record. At 34, the star quarterback isn't finished competing for another championship (lest we remind our readers that both Montana and Pittsburgh's Terry Bradshaw have won four Super Bowls each).
But right now, even with a lock on the first seed in the AFC, New England is trying their darndest to keep Brady's shoulder injury on the hush hush. Stacey James, spokesman for the Patriots, has been very testy on the issue. "If there was an injury, it would be on the injury report," he said on Thursday. Ouch. Most people would have simply said, "yes" or "no" to the question of whether his shoulder was really injured.
If Brady is actually hurt, he can thank division opponent Kevin Burnett (Miami Dolphins) who drilled his shoulder into the ground with just a couple of minutes left in the game last Sunday. If healthy this week against the Bills, Brady has the potential to surpass the exact same record that Drew Brees just achieved last week: most passing yards in the regular season. Marino set the record at 5,084 in 1984, Brees reached 5,087 on Sunday, and Brady is just a little over 100 yards from both quarterbacks.
Our Shoulder Shop is filled with braces and supports for those who suffer almost any kind of shoulder injury. Each item comes highly recommended at a reasonable cost to you. No one can beat The Brace Shop prices, their service and their huge selection. The Brace Shop supplies hospitals, sports teams, schools, doctors, therapists, nursing homes & military bases around the world. Shop Where The Pros Go!