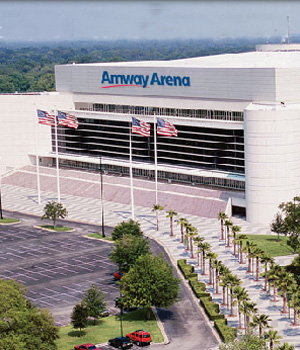 Downtown Orlando has officially said goodbye to one of their signature buildings that decorated the area for more than twenty years. The Amway Arena, which primarily housed the NBA's Orlando Magic, was scheduled for demolition after its doors were closed on September 30, 2010. For those non-basketball fans out there, the Arena was also known for playing home to the Solar Bears from the International Hockey League, the Orlando Predators of the Arena Football League and the annual performance of Ringling Brothers and Barnum and Bailey Circus. But during its official demolition last Sunday morning, a man who was standing nearly two blocks away was hit in the leg by a piece of falling steel. The injury was minor, but the accident was odd. Most demolitions are self-contained with viewers standing nearby to watch.
So why was the Amway Arena torn down at all?
Due to the growing popularity of the Orlando Magic during the 1990s, the facility quickly proved unsustainable. Renovations were urged within just five years of its 1989 construction. Since the facility was publically financed, government officials couldn't stomach the idea of immediately renovating a brand new building, but with twenty years of frustrations welling up, the City of Orlando was finally willing to throw in the hat. A new Amway Center was dedicated on October 1, 2010, allowing the city to officially consider what to do with the old property.
A decision to demolish the Amway Arena came quickly, but not without its apprehensions. The original building cost more than $100 million of public revenue, making its ultimate implosion a tough pill to swallow. But an implosion was and is among the most respectable, controlled ways to bring down a work of massive construction. Why a man two blocks away was hit with flying steel is tough to explain. The city just hopes that his hospital bill doesn't add any more to the losses already sacrificed.
The Brace Shop is an authorized dealer of medical merchandise, giving you the assurance that our products and our services are top notch. Each item comes highly recommended at a reasonable cost to you. No one can beat The Brace Shop prices, their service and their huge selection. The Brace Shop supplies hospitals, sports teams, schools, doctors, therapists, nursing homes & military bases around the world. Shop Where The Pros Go!