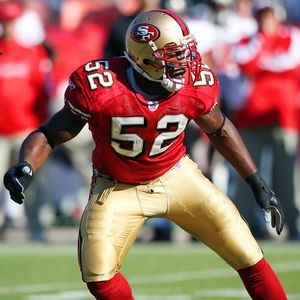 When the San Francisco 49ers took the field at Candlestick Park on Sunday, they knew the playoffs were one game away: win and they were in. So when they walked off the field that afternoon after shutting out the St. Louis Rams 26-0, they had the win, they had the playoffs, and the coach got his traditional gatorade bath. Unfortunately, their all-star linebacker and leading tackler was limping.
Patrick Willis has seen the Niners go through their share of tough seasons. And like running back Frank Gore on the other side of the ball, Willis has continued to thrive even when the rest of his team faced defeat after defeat. This year, he has dominated on defense with more than 90 tackles, helping to limit opponents to an average of 14 points per game and no more.
But Willis strained his hamstring during the shutout of St. Louis. And that's bad news. No. That's terrible news. For now, San Francisco is playing fairly good on offense, producing a competitive scoring ratio from week to week. But for the defense to play without him is a bit like watching the Baltimore Ravens play without Ray Lewis. It amounts to ripping the heart out of a defense.
Right now, the San Francisco 49ers are into the playoffs for the first time in nine years and they'll have to do some soul searching if they're going to try and keep up with the perfect and seemingly unbeatable Green Bay Packers. With four games left in the regular season and the NFC West already clinched, perhaps Willis will benefit from having a few weeks off in preparation for the playoffs.
Our Knee Shop is filled with braces and supports for those who suffer almost any kind of knee or hamstring injury. Each item comes highly recommended at a reasonable cost to you. No one can beat The Brace Shop prices, their service and their huge selection. The Brace Shop supplies hospitals, sports teams, schools, doctors, therapists, nursing homes & military bases around the world. Shop Where The Pros Go!